Discover Skateboarding in a Week-Long School
Rob Dunfey, GoSkate.com's founder and a professional skateboarder, makes videos for aspirants and enthusiasts who want to be a professional skateboarder someday. These YouTube videos are posted on YouTube for free! But if you want a more detailed guideline, you can visit http://www.tricktutor.com.
Here's an exercise for skateboarders who haven't mastered Ollie yet. These exercises are guaranteed helpful in improving your entire body's coordination that is needed to ace all the tricks you have to do during skateboarding. Watch the video and visit a nearby parking lot so as to practice. Rest assured that you will be able to have a better grasp on how to do your Ollie the next time you try.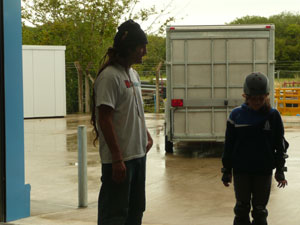 What will you learn?
Safety Techniques
Proper Stance
How to Ride and Push
How to Turn
How to Stay Steady Going Down Hills
How to Ride Ramps
Who we Serve:
Ages: 4 through 104
Ability: Beginner through Competition-Style Advanced.
How to Start:
Equipment: We recommend a board and a full set of safety gear. This includes: a helmet, elbow pads, knee pads, and wrist guards. Rental equipment is available.
Location: We can do lessons in your driveway, in your garage, or at the Berkeley skate park.
Locations for Skateboarding Lessons in Berkeley, CA
Become a professional skateboarder with the guidance of GoSkate.com's skilled tutors. Our skateboarding lessons in Berkeley, CA may be held in garages, driveways, parking lots and skate parks, wherever is much convenient to our student. For novice and children, we prefer conducting skateboarding lessons just near their place until they have understood all the basic techniques. Once the student is ready for a bigger space and complex tricks, we can later on visit a skate park within Berkeley.
Located in Harrison Park, Berkeley Skate Park is an 18,000 square foot outdoor location where intermediate and professional skateboarders can master all the tricks through their smoothly created concrete obstacles. The park is open 7 days a week, from 8:00 AM to 9:00 PM. They have fun boxes, bowls and so on. They are strict when it comes to protection so it is best to bring your helmet and other safety gears if you want to visit the park.
Berkeley CA Skateboard Lessons
Skateboarding lessons in Berkeley, CA is offered to enthusiasts and aspirants who are ages 4 years and up. You can join our one-week long lesson and can move forward if you want to know more about the sport. Our tutors have been in the industry for over 14 years, therefore, you are guaranteed that you will learn all the proper methods.
GoSkate.com is a reputable business that has been featured in several magazines and TV shows such as Fox News, ESPN, Yahoo Sports and more. Contact us now for a phone assessment. Just fill up the form below so that one of our representatives can contact you as soon as possible.
Meet Rob — Your Personal Helper/Instructor for Skateboard Lessons
Rob is a competitive, sponsored skateboarder. He has been teaching for nine years, has taught hundreds of lessons, and is ready to help YOU!
Sign up for a
FREE

Phone Assessment with a Berkeley Instructor