San Diego Skateboarding School Since 2009.
-Affordable
-Flexible (any skatepark in San Diego County or at your home)
-All ages and abilities
FIVE STAR reviews and one of the top providers of skateboarding lessons!
---
What you will learn at our lessons:
Safety Techniques
Proper Foot position
How to Ride and Push
How to Turn
How to Stay Steady Going Down Hills
Who we Serve:
Ages: 4 through 104
Ability: Beginner through Competition-Style Advanced.
How to Start:
Equipment: We recommend a board and a full set of safety gear. This includes: a helmet, elbow pads, knee pads, and wrist guards. Rental equipment is available.
Location: We can do lessons in your driveway, in your garage, or at the San Diego Area skate parks.
San Diego Skate Parks Where we Teach:
-Robb Field Skatepark – Ocean Beach, 2525 Bacon St, San Diego, CA 92107
-Carmel Valley Skate Park, 12600 El Camino Real, San Diego, CA 92130
-El Cajon Skate Park, John F Kennedy Park, 400 N 4th St, El Cajon, CA 92019
-La Mesa Skate Park, 8855 Dallas St, La Mesa, CA 91942
-Coronado Skate Park
-Chula Vista Skatepark
-Poway Skate Park, 13094 Civic Center Dr, Poway, CA 92064
-Rancho Bernardo – residential lessons
-Rancho Penasquitos Skate Park, Carmel Mountain Rd, San Diego, CA
-Carlsbad and Oceanside Skateparks
-Encinitas YMCA Skateparks, 200 Saxony Rd, Encinitas, CA 92024
Skate Lessons at Robb Field Skatepark in Ocean Beach

Robb Field is a MASSIVE concrete skatepark located only 12 minutes from downtown San Diego at: 2525 Bacon St, San Diego, CA 92107
---
Learn Skateboarding in a Week-Long Class at Robb Field or Take 1-on-1 Lessons
Skateboarding is a pastime activity, an art form, or a method of transportation. Skateboarding has been molded and influenced by many skateboarders throughout the ages. A 2002 survey and study by American Sports Data discovered that there were 18.5 million skateboarders in the world. 85 percent of skateboarders polled had used a board in the previous year were under the age of eighteen, and 74 percent were male. Those numbers have doubled since then. In the coming years the skate parks have more than tripled making skateboarding more accessible as publicly and privately owned parks and indoor parks are becoming a reality.
San Diego Skate Coaches
Rob Dunfey
Rob is the mastermind behind GoSkate.com and oversees thousands of skate lessons happening all over the country each year. He has taught camps in Carlsbad, Poway, Santa Cruz, Massachusetts, and even Ireland. His YouTube instructional channel has over 20k followers. He is one of the most experienced instructors in San Diego, if not, the world. He is a professional skateboarder and used to travel the country doing contests.
Hurvey Haskins
Hurvey was the leader of instruction at Lake Owen which is one of the leading skateboarding camps in Wisconsin. Here he managed and helped train dozens of other instructors. Hurvery is a professional skateboarders and owns Prophecy Skateboards. He also is one of the most experienced teachers in the world.
History
The most significant change has been the developed generation bubble that skateboarded in their youth and have grown up with the "X" Games explosion into the global mainstream of competitive sports and sees it as a participation sport for their children as led by X-Games Athletes who are affiliated and instruct for our brand and web site.
Do you want to learn skateboarding?
Be taught all of the basic principles of skateboarding fast in a one-week camp. We will show you the principles of skateboarding like how to balance, push, turn, proper foot placement, and how to stop. Regardless, of where you are at.. you can benefit from individualized instruction to meet your skill level.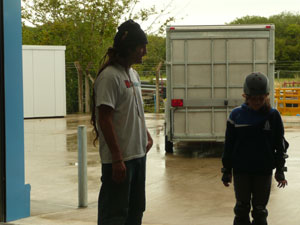 1-on-1 San Diego CA Skateboard Lessons

Go Skate Skateboarding Lessons in San Diego was developed to help motivated youth demographic become involved in a healthy activity and to keep kids out of drugs and violence.. We take great pride in helping people of all ages learn how to skateboard.
San Diego is an awesome city for skateboarding.  You can take your board for a stroll on the Mission Beach boardwalk or head to one of the dozens of skateparks from Imperial Beach to Oceanside.  San Diego is considered one of the best places in the world for skateboarding.  Many of the top skate companies are based here.  Black Box distribution is based in North County and Tony Hawk lives in San Diego.
Some of the first skateboard competitions in the US were held at the now defunct Del Mar Skatepark.  San Diego is a city that is constantly reinventing itself and has added dozens of skate parks in the past decade.  We can help you explore them!
Goskate.com is passionate in it's desire to provide the means through it's Skate School lessons to being a confident skateboarder, by providing the premiere school for all ages and abilities throughout California.
San Diego Pricing
-Packages from the low $200's and up.
Meet Rob — Your Personal Helper/Instructor for Skateboard Lessons
Rob is a competitive, sponsored skateboarder. He has been teaching for nine years, has taught hundreds of lessons, and is ready to help YOU!
Sign up for a
FREE

Phone Assessment with on our San Diego Lessons